Omaha-based rapper TKO (Gene Poindexter) isn't new to rap with ten years under his belt, but until the past couple years he flew somewhat under the radar. As a guest collaborator on Mark Patrick's "Wish," TKO shared:

"If I never make it happen with this rap then I'm fine with that, least I got a little satisfaction. Sometimes I lack patience, never mind the fact that I've been waiting and it's taking too long and I kinda hate it. I made it this far and nothing's wrong with that, with the way that the world and the city's on my back. Or is it? No gimmicks, sometimes I think I'm finished. Sick of wishin', cause it doesn't make sense. And I listen to garbage and it's hard for me to even coexist when I've done this so long with minimal recognition. The jealous ones envy, they often act friendly, but I bet many men wish me to fall and it gets me. I put others before me, when it's time to return the favor the motherfuckers ignore me. Sometimes I think the biggest haters are the ones standing right next to you. They hate when you succeed, can't wait for the death of you. I'm gone."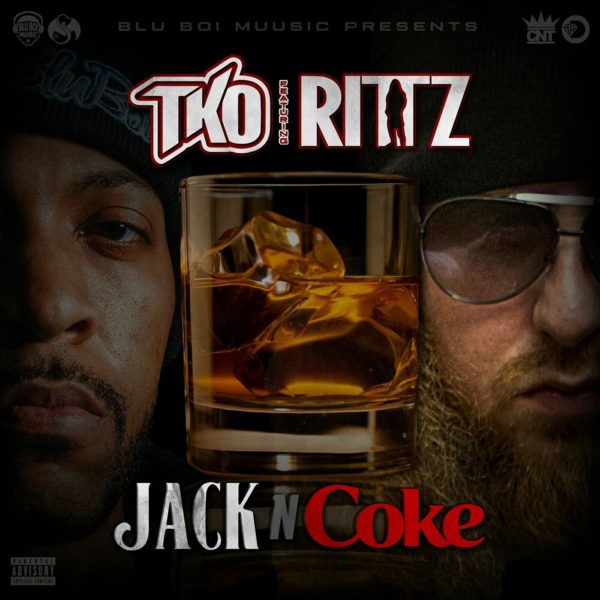 But in the past year, TKO has played high profile shows, been nominated for an Omaha Entertainment and Arts Award, and is slated to release a song with Strange Music's Rittz on April 7th — an opportunity that came about when Poindexter's manager and avid Rittz fan Smurph Muusic went to bat for him. Poindexter has been communicating with the Strange Music rapper over the past year.
"He gave me the ball and that's it. What I do with it will see how far we go," explained Poindexter.
"Tech N9ne became familiar with Rittz after working with Yelawolf on the stand out track 'Worldwide Choppers' on All 6's and 7's. Tech was able to catch Rittz performing live a few times and soon realized what a great fit he would be for Strange Music. 'Live, he's a murderer. On records he's very intricate and takes the time to make sure the music is top-notch, just like we do.'"
The collaboration will appear on an upcoming TKO album, one of several projects the rapper has planned to release this year.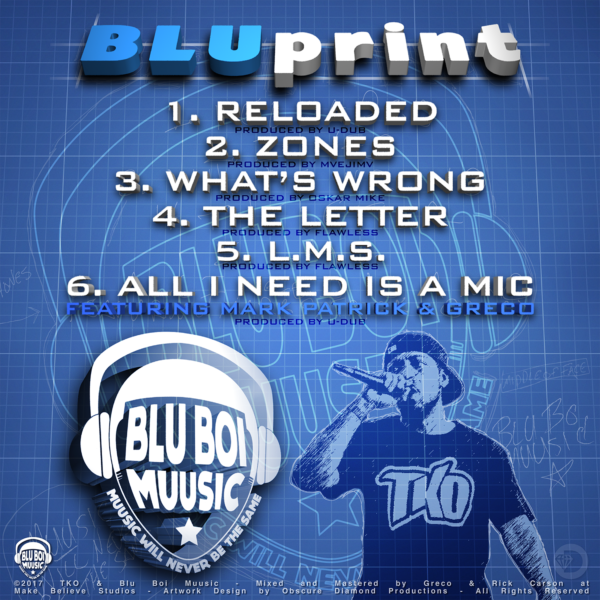 With the past year being arguably his biggest year yet and boasting one of the best flows in the city, TKO's bound to start turning more heads. In January of this year, TKO released his first fully mixed and mastered project, Bluprint. The EP features beats from U-Dub from NY Bangers, Oscar Mike, Flawless and MVEJIMV — each offering different sounds.
The EP opens with "Reloaded," which gives us the kind of attitude and fire that our "Fuck the World" Spotify playlist is looking for, and so I add it alongside middle-finger-in-the-air classics like "G.O.M.D." and this blog's namesake, "Say Hey There." It's the kind of jam that will make you wear your cap cocked, ride low and dare anyone to look you in the eye.
"L.M.S." follows in its footsteps and also gets added to the Fuck the World playlist. So many unfiltered goodies and hot one-liners ("I'm a full course meal you a fruit snack") in one EP! Try to stay still during this song. You can't do it.
"What's Wrong" does a 360 and gives us a chill, melodic, pensive vibe, with lyrics about the more depressing qualities of American culture and politics, relationships and sex, poverty and celebrity.
TKO is at times self-deprecating, which is always an intriguing quality in a rapper, but he is also introspective and knows what his strengths and passions are, with just the right dosage of swagger.
"Now I ain't perfect or nothin', but at least I walk around with a purpose for somethin'." – "What's Wrong"
Stream the full EP below now and let us know what you think in the comments!
Stream Now
Comments
comments