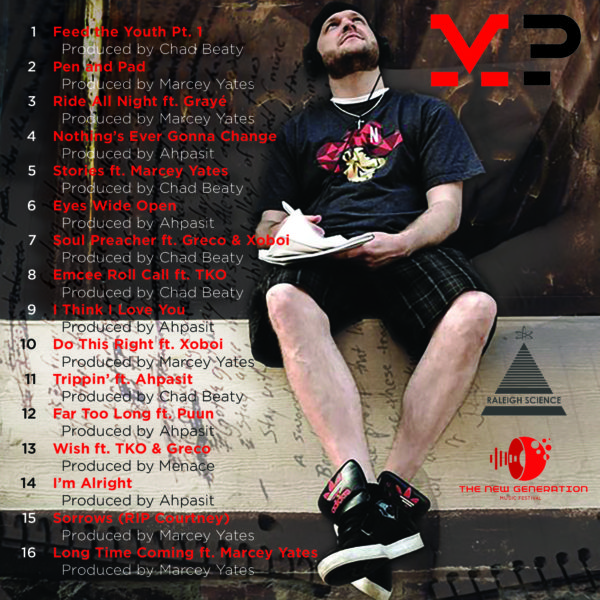 Budding Omaha rap artist Mark Patrick released his first music project, Pen and Pad around Christmas time. I was intrigued to first stumble upon Patrick at an Omaha Entertainment and Arts Awards showcase in early 2016 — enough so that I stayed for the rest of his set. He has burst onto the local scene in the past year, collaborating with Omaha heavyweights, co-organizing New Generation Music Festival with fellow Raleigh Science collaborator Marcey Yates, and landing two Omaha Entertainment and Arts Awards nominations for Best New Artist and Best Hip Hop/Rap.
With Pen and Pad (mixed & mastered by Greco), Patrick follows in the footsteps of those who came before him by making his debut project his proclamation of self that introduces the listener to his lyricism, mentality, and style and sets the stage for the type of artist you can expect him to evolve into. So, who is Mark Patrick? Check out our album highlights below and stream Pen and Pad now.
Highlights
"Pen and Pad"
The title track appears as the album's second song. A chill beat by Marcey Yates sets the tone for the song about songwriting that showcases Patrick's lyrical versatility.
"Eventually we need to go, to states where they don't see no snow; tour the coast, doing the most, who woulda known we'd chase it. Like we plan, mic in hand, life is what you make it; no matter what it takes…I'm gonna take it."
"Do This Right"
This song – featuring a dope verse from XOBOI – begins with what sounds like a sample of "Band on the Run" by Wings. Another chill, cruising beat by Yates, this song pays homage to the greats and making good hip hop.
"My lyrical arsenals, influenced by all these: Common and Marshall, The Roots and that Kweli, today it's Lupe, tomorrow it's Nas, Kanye West is bumping as I leave the garage."
"Wish"
Produced by Menace and featuring fellow OEAA Best Hip Hop/Rap nominees Greco and TKO, this song opens with a sick, strong verse from TKO. Seriously. Listen. Here's the whole excerpt, because…damn. But the flow makes it, so do yourself a favor and bump this track now.
"If I never make it happen with this rap then I'm fine with that, least I got a little satisfaction. Sometimes I lack patience, never mind the fact that I've been waiting and it's taking too long and I kinda hate it. I made it this far and nothing's wrong with that, with the way that the world and the city's on my back. Or is it? No gimmicks, sometimes I think I'm finished. Sick of wishin', cause it doesn't make sense. And I listen to garbage and it's hard for me to even coexist when I've done this so long with minimal recognition. The jealous ones envy, they often act friendly, but I bet many men wish me to fall and it gets me. I put others before me, when it's time to return the favor the motherfuckers ignore me. Sometimes I think the biggest haters are the ones standing right next to you. They hate when you succeed, can't wait for the death of you. I'm gone."
"Sorrows"
A somber tune, the production on this song is very Kanye West-esque, so it makes sense that Marcey Yates is behind the beat. "Sorrows" is about one of Patricks' best friends who passed away and has him working through memories and grief. The song reveals Patrick's vulnerable side, and anyone who has ever lost a close friend will be able to relate.

The Skinny
The full length Pen and Pad is an impressive first body of work, tackling a wide range of topics like losing a good friend, environmentalism, and love. Patrick has made quite an impact on the local scene in the past year and promises to make 2017 even bigger. Catch Mark Patrick at Lookout Lounge on March 16th or Benevolent Studios in Hamburg, Iowa on March 18th.
Listen Now
Comments
comments